THE YOGI
Regular price
$0.00
Sale price
$89.99
Unit price
per
Free Shipping
30-Day Moneyback Guarantee
FEATURES

100% Organic Cotton Yoga Mat
Handmade and Fair trade
Free from Harmful Chemicals
All natural and washable
Generous size - 78"x27"
SIZE / WEIGHT

Size: 78x27"

Weight: 3 lbs 1 oz

Thickness: 4mm
MATERIALS

100% Organic Cotton & Hand-made.
Share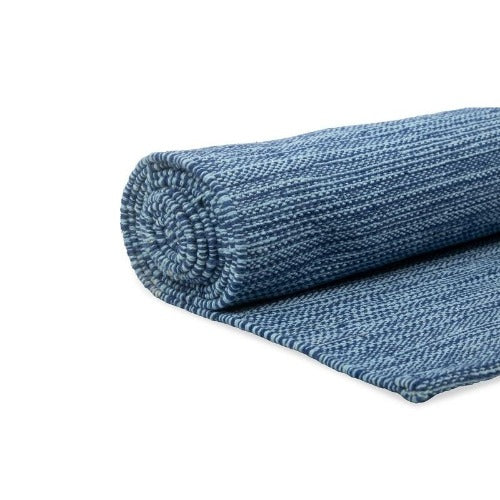 Premium Organic Cotton - Elevate your practice with the luxurious touch of our yoga mat, meticulously crafted from 100% premium organic cotton. Not only is it gentle on your skin, but it also champions sustainability, ensuring you're not just nurturing your well-being but also Mother Earth.

Ultimate Absorbency and Effortless Maintenance - Our yoga mat features a specially woven cotton material that's not just absorbent – it's your secret to staying dry and comfortable even during the most intense workouts or yoga sessions. And the best part? Cleaning it is as easy as your practice. A quick spin in the washing machine, and it's fresh and ready to elevate your next session.

Spacious Dimensions for Absolute Freedom - Unroll your potential on our generously sized yoga mat, offering an expansive 78" x 27" canvas for your fitness odyssey. Master yoga poses, perfect your Pilates form, or dive into rigorous fitness routines with the freedom to stretch, extend, and explore to your heart's content.

Stay Grounded with Unwavering Confidence - Our mat's natural cotton fibers are your guarantee of a non-slip surface, creating a foundation of stability and unwavering support. Feel the rush of confidence as you flow through poses, knowing that your mat will stay steadfastly in place, ensuring you're always in control and poised for greatness.

Artisanal Beauty Meets Handmade Excellence - Each mat is a masterpiece, meticulously handmade to showcase exceptional craftsmanship and attention to detail. Beyond superior performance, our yoga mat adds an element of artistry to your fitness sanctuary. Elevate not only your practice but also your surroundings with this one-of-a-kind piece, a testament to your commitment to wellness and aesthetics.
Why Are Organic Yoga Mats So Good?
The problem with a lot of the yoga mats that people use these days is that they are made out of inorganic and sometimes even dangerous toxic materials. For example, many of the common yoga mats that people use today are made out of chemically-made materials such as rubber or nylon. The issue with this is that these materials can sometimes have a negative effect on the environment during production.
Take our word for it that buying a rubber or nylon-made yoga mat is definitely not an eco-friendly yoga mat purchase, and so it's one you should avoid! Instead, consider buying one made out of all-natural organic cotton.
In order to help protect the environment, we make sure to sell only eco-friendly yoga mats, made with materials that do not harm the environment during the production process. Our natural yoga mats are made from all-natural, biodegradable cotton material, as opposed to some other yoga mats, which are made from non-biodegradable materials. Our decision to use only natural and organic materials for our eco-friendly yoga mats means that mother nature walks away unscathed, and it is a decision we are very proud of!
Are They as Good as "Normal" Yoga Mats?
We are proud to say that our organic yoga mats are some of the best you will ever have the luxury of practicing yoga on. Made from comfortable and long-lasting organic materials, our washable yoga mats are sure to endure over long stretches of time, remaining as comfortable as ever, even after multiple machine washes!
What's more, with an appealing and striking visual aesthetic to them, we are certain that your cotton yoga mat will not look out of place at all at your next yoga class. In fact, it may even be an eye-catcher for some people who catch a glimpse of it! So, become the topic of conversation at your next yoga class, and proudly tell everyone why you chose a natural organic yoga mat, without needing to sacrifice any visual appeal or comfort by doing so.
All-Natural Yoga Mats Bring Peace of Mind and Happiness
As noted earlier, for many people who regularly practice yoga, a big part of what is so great about the exercise is that it can help strengthen your spiritual side and bring peace and happiness to your life. With that in mind, we believe it is fair to say that, by buying an eco-friendly yoga mat, you can actually improve the overall sense of peace and happiness that comes from yoga, knowing that you are improving yourself while not harming the environment in any way!
For us, the peace of mind that comes from respecting the environment and becoming more in-tune with your inner self is incredibly important, and we believe that our organic natural yoga mats can help you with that.
Why You Should Buy a Yoga Mat from Live Well 360
Yoga is becoming more and more popular in the lives of people all over the world. In fact, it's fair to say it's a modern phenomenon, and for good reason! Not only can practicing yoga strengthen your body, helping to improve your balance and posture, but it is also a great way to improve your mental state.
Like many forms of meditation, yoga can actually help to clear your mind and bring peace and tranquility to your life, if you are committed to the practice. In fact, for people suffering from mental illnesses such as anxiety or depression, for example, practicing yoga regularly can be very helpful in improving the mental state and alleviating some stress and anxiety.
So, with all of the benefits (both for the body and the soul) that can come from regularly practicing yoga, it really is no wonder that yoga has become so popular these days. If you haven't given it a shot yet, now is the time!
What is a Yoga Mat For?
One of the advantages of yoga is that it is easy to find a studio or online program to get started. You probably know already that in order to properly practice yoga, one of the only essential pieces of equipment you need to purchase in order to get started is a washable yoga mat to actually do the yoga exercises on.
Regardless of where you practice yoga (whether it is in a class, in the comfort of your home, or even outside in the sun), a washable yoga mat helps you to perform all of the yoga exercises with ease and comfort. So, whether you are new to yoga, or are an experienced yogi already, you have come to the right place.
Before buying a yoga mat, though, you really should consider the following advantages that come from choosing a natural yoga mat, made out of organic cotton.
Spread the Word!
Now, more than ever, it is crucial that we take serious steps to help save our planet. While it may only be a small step in the right direction, one way that you can help is to spread the word about organic yoga mats, and other all-natural yoga accessories. Tell your friends, family, and the people you practice yoga with that organic, eco-friendly yoga mats are the way to go from now on if we want to help protect the environment and save our great planet.
Just as you will be satisfied with your decision to use only biodegradable cotton yoga mats, we know that whoever you tell will be too. So, purchase one of our natural cotton yoga mats today, and practice yoga in peace, knowing you are doing right by the environment and yourself.
Excellent quality; makes a great yoga / ex...
Excellent quality; makes a great yoga / exercise mat, and is long enough for tall people.
Really a great yoga mat, so comfortable….....
Really a great yoga mat, so comfortable….. it feels really great doing my yoga routines on it….
Fast shipping! Thank you! Has an interesti...
Fast shipping! Thank you! Has an interesting smell and isn't quite as soft as I imagined but will be absolutely perfect as a Christmas present for my mom!
Lovely mat..great quality…smelled horrible...
Lovely mat..great quality…smelled horrible when arrived..assume smell will come out with washing.
Seems to be very well made and matches the...
Seems to be very well made and matches the description. Definitely needed to put a non slip pad under it on hard surfaces though. Personally I like that idea anyway as it makes for minimal contact with the floor.
I am so happy with this rug!!! And it was...
I am so happy with this rug!!! And it was packaged beautifully (with no plastic)!! Thank you!
Very happy with this purchase! Thank you.
Very happy with this purchase! Thank you.
It's more like a rug than your standard yo...
It's more like a rug than your standard yoga mat but i like it because I'm on a carpet floor and it pairs well
Loved it for the week I had it, then dropp...
Loved it for the week I had it, then dropped an entire bottle of bleach on it.
Beautiful mat! I love it.
Beautiful mat! I love it.